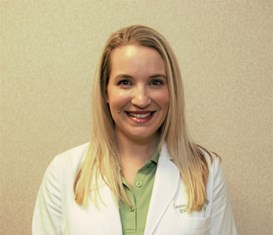 Lauren completed her Bachelors of Science in Nursing at The Johns Hopkins University School of Nursing in 2009. As a Registered Nurse, Lauren worked at Sinai Hospital of Baltimore in the
adult ICU and then transitioned to hospice and palliative care nursing. She worked on an inpatient hospice unit at Northwest Hospital and was a part of the Palliative Care team at the University of Maryland Medical Center.
Her passion for the healthcare of adults, and geriatrics in particular, lead her to pursue her Masters Degree in Adult/Geriatric Primary Care. Lauren received her Masters of Science degree at the University of Maryland School of Nursing where she graduated cum laude. She is board certified in Adult-Gerontology Primary Care by the American Academy of Nurse Practitioners.
Lauren believes that thoroughly educating her patients on their illnesses is essential to building healthy relationships with her patients. She looks forward to working together with her patients to help them be their most healthy selves.