You Will Find All The Recipes Used In Our FREE Food Demos Here
Healthy Holiday Eating-
Demo By:
Lauren Corsiglia, CRNP & Jessica Cooper, Clinical Coordinator
Sweet Pepper Poppers
1 Serving
Carb: 8.4g
Fiber: 1.3g
Total Net Carb: 7.1g
Protien: 53g  
Ingredients
6 large mini sweet peppers, cut in half lengthwise with seeds removed.
1 cup PHILADELPHIA Cream Cheese or veggie chreese cheese
3 slices pre-cooked bacon, crumbled
½ cup shredded cheddar cheese or mozz. Cheese
Diced onion as desired
Instructions
Preheat oven to 350 degrees.
Slightly oil large baking sheet or cover with a silicone baking sheet/parchment paper.
Fill each pepper with approximately one tablespoon cream cheese, or until filled. Place on baking sheet.
Sprinkle with shredded cheese and bacon.
Bake for 15 to 20 minutes or until cheese is fully melted.
Serve warm or refrigerate until serving.
Crock Pot Broccoli-Cauliflower Casserole
1 Serving
Carb: 9g
Fiber: 1g
Total Net Carb: 8g
Protein: 9g
INGREDIENTS
2 bags frozen broccoli cauliflower mix

1 10 oz can cream of celery soup

1 10 oz can cream of mushroom soup

12 ounces of Velveeta cheese (cubed)

salt and pepper to taste

1 sleeve Ritz crackers

1 stick butter (melted)
INSTRUCTIONS
In a medium sized bowl add soups and cheese.

Heat in microwave for 1 minute, then stir

Continue heating for 30 seconds until cheese has melted, stirring each time.

Pour both bags of frozen veggies in crock pot.

Pour cheesy soup mix over veggies and stir.

Place lid on and set crock pot on high for 2-3 hours or until it is bubbling

Crush your sleeve of crackers and place in plastic bag

Pour melted butter into bag of crushed crackers and mix well

Pour crackers evenly on baking sheet

Place cookie sheet under broiler for 90 seconds

Stir crackers up with spatula

Place under broiler for 30 more seconds

After veggies are cooked, pour crackers over casserole

Serve and enjoy!
Slow Cooker Pork Roast with Apples, Carrots and Rosemary
1 Serving
Carb: 22g
Fiber: 2g
Total Net Carb: 20g
Protein: 29g
Ingredients
2 Granny Smith apples, cored and each cut into 8 wedges
4 pounds boneless loin pork roast
1/2 teaspoon fresh ground pepper
1 medium onion, cut into eighths
4 large carrots, cut into 1 1/2-inch pieces
Instructions
In medium bowl, toss apples with lemon juice; set aside.
Season roast with salt and pepper.
Place half of onions and 4 to 6 apple wedges in slow cooker crock.
Top with seasoned roast. Surround roast with remaining apples, onions, and carrots. Top with rosemary.
Cover and cook on HIGH for 4 hours, MEDIUM for 5 1/2 to 6 hours or LOW 7 to 8 hours.
Sugar Free Brownies | Coconut Flour
1 Serving
Carb: 3.4g
Fiber: 2g
Total Net Carb: 1.4g
Protein: 3.1g
This recipe is sweetened with Swerve a 100% natural sweetener safe for diabetic. The batter is gluten free and low in carbs made of a mix of almond meal and coconut flour. It means that this sugar free brownies recipe is a diabetes friendly brownie recipe. I used coconut oil for an healthier fat option but again any vegetable oil should work well too. I really love this new recipe I developed today because it is simple, does not require fancy ingredients and it is quick to bake. The texture of the brownie is similar to mix boxed mix brownie. It is not a fudgy brownie but it is low carb and sugar free
Ingredients
5 eggs

1/3 cup virgin coconut oil , melted or extra virgin light taste olive oil or vegetable oil of your choice if you do not like the taste of olive oil

1 tablespoon

vanilla extract

½ teaspoon

baking soda

1/2 cup

Swerve

or erythritol

1/3 cup unsweetened cacao powder

1/4 cup

Almond Meal

or oat flour

1/3 cup

Coconut Flour

½ cup

pecans nuts

or sugar free chocolate chips
Instructions
Preheat oven to  350 F (180 C)

Cover a brownie square pan 6 inches (15 cm)  with baking paper. Set aside.

In a bowl whisk together the eggs, melted coconut oil, vanilla extract and baking soda.

Combine the swerve, unsweetened cocoa powder, almond meal,,coconut flour and nuts.

Transfer the batter onto the prepared pan.

Bake for 20-25 minutes or until a toothpick came out clean. The texture should be soft in the center. Do not over bake.

Cool down on a rack before cutting into squares. It will firm up when cooling down.

Decorate the top with extra coconut flour or almond meal if desired.
Breakfast Ideas For The Most Important Meal-: Demo By: Leanne Hedges, PA-C & Jessica M. 
Chia Seed Pudding
Servings: 4
Calories: 201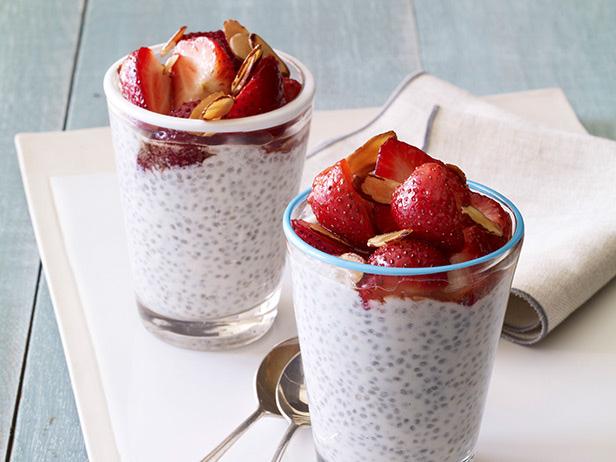 Ingredients:
Directions:
 Gently whisk the almond milk, yogurt, 2 tablespoons maple syrup, the vanilla and 1/8 teaspoon salt until just blended.
Whisk in the chia seeds; let stand 30 minutes.
Stir to distribute the seeds if they have settled.
Cover and refrigerate overnight.
The next day, in a medium bowl, toss the berries with the remaining 4 teaspoons maple syrup.
Mix in the almonds.
Spoon the pudding into 4 bowls or glasses; mound the berry mixture on top and serve.
Breakfast Egg Cups
This Breakfast Egg Cups Recipe is the perfect breakfast on-the-go. Make them ahead of time, refrigerate or freeze them, and then heat them in the microwave when you are ready to eat!
Servings: 1
Calories: 78
Ingredients: 
1 – cooking spray
6 large – egg
1/4 cup – milk
1/8 teaspoon – salt
1/8 teaspoon – black pepper, ground
1 medium – bell pepper, red
3/4 cup – spinach
1/4 cup – cheddar cheese, shredded
Directions:
Spray a muffin tin with cooking spray and  set aside. Preheat oven to 375°F.
Whisk the eggs and milk together in a bowl. Season with salt and pepper.
Dice the bell pepper into small pieces. Stack the spinach leaves, roll them up, and slice them thin. (This method is called chiffonade.)
Add the peppers, spinach, and shredded cheddar to the egg mixture.
Fill muffin cups 3/4 full and bake for 20-25 minutes until centers are set and no longer runny.
Allow to cool slightly before serving.
Picnic Ideas Demo By: Jill Koeppen & Angela Potts
Low Carb Broccoli Salad With Bacon and Cheese
This simple low carb bacon cheddar broccoli salad is great for a picnic or potluck. The creamy dressing is sweetened with all natural stevia.
Ingredients:
1

bunch fresh broccoli

, cut in small pieces

3/4

cup

mayonnaise

2

Tablespoons

 

apple cider vineger

3

packets stevia or other sugar substitute

6

slices

bacon

, cooked crisp then chopped

1/2

cup

cheddar cheese

, grated

1/4

cup

onion

, chopped (optional)

 1/4

cup

roasted sunflower seeds

(optional)
Instructions:
Lightly steam broccoli for a minute or two. Drain and cool.

In a large bowl, mix the mayonnaise, vinegar and stevia with a whisk.

Toss the broccoli and cheddar cheese into the dressing.
___________________________________________________________
Cauliflower Salad
Yummy Cauliflower alternative to potato salad
Ingredients:
1 head cauliflower, trimmed and cut into bite-size florets
3/4 cup mayonnaise
1 tablespoon mustard
1 teaspoon salt
ground black pepper to taste
3 hard boiled eggs, chopped
1 onion, chopped
3/4 cup frozen green peas, thawed
1/4 cup dill pickles, chopped
3 slices crisply cooked bacon, crumbled (optional)
Instructions:
Place cauliflower in a large saucepan and cover with water. Bring to a boil and cook until just fork tender, about 10 minutes. Drain and cool slightly.
In a large bowl whisk together the mayonnaise, mustard, salt, and pepper. Add the cauliflower, eggs, onion, peas, dill pickles, and bacon to the dressing and stir until well coated. Cover and refrigerate for 2 to 24 hours. The longer the cauliflower salad chills, the better the flavor.
______________________________________________________________________________
Low-Carb Strawberry Shortcake Pie
1 1/2 sticks butter, melted
1 cup sliced almonds
1 cup almond flour (I sometimes use more if it doesn't cover the bottom of the pan)
8 oz cream cheese
1 1/4 cup Erythritol (or sweetener of choice)
1 pt heavy whipping cream
1 tsp vanilla
1 qt strawberries, sliced
Instructions:
For homemade whipped cream:
Chill a metal bowl and beaters prior to whipping the cream.
When chilled, beat 1 pt whipping cream, 1/4 cup Erythritol, and vanilla until you begin to get soft peaks.
*Do not over beat or it will become too stiff. Try to get to the consistency of Cool Whip.
**For best results, grind 1/4 cup of erythritol into a powder. Then, use 1/4 cup of the powder. This will make the whipped cream smoother.
Refrigerate until ready to use.
1st layer (shortcake):
Stir together the butter, almonds, and almond flour. Press into the bottom of a 9×13 dish.
Bake at 350 for 10 minutes or until golden brown.
Cool completely before adding additional layers.
**This should be a rather solid layer. If it looks too buttery, chances are you need to bake it longer.
2nd layer:
Mix the cream cheese, 1 cup Erythritol, and 1 cup whipped cream; spread onto the cooled shortcake.
(The original recipe calls for powdered sugar. You can put the sweetener into a food processor and it will come out a bit more smooth.)
3rd layer
Top with sliced strawberries
4th layer:
Top with left over whipped cream
Let cool in fridge until ready to eat
____________________________________________________________
Ingredients:
4

cups

Shredded coleslaw mix

(primarily cabbage with small amount of carrots)

1/4

cup

 mayonnaise

2

tbsp

 Apple Cider Vinegar

1

tbsp

 

Erythritol

1

tsp

Celery seed

Sea Salt

 

(to taste)

Black Pepper

 

(to taste)
Instructions:
Place the shredded coleslaw mix into a large bowl. Set aside.

In a small bowl, whisk together the mayonnaise, apple cider vinegar, erythritol, and celery seed. Season with sea salt and black pepper to taste.

Stir the dressing into the shredded coleslaw mix and toss to coat.

If you have time, refrigerate the coleslaw for at least an hour (or overnight) to let the flavors develop. Stir again before serving. Serve chilled.
____________________________________________________________
Ingredients:
2 cucumbers (about 1 pound each)
2 ounces crumbled feta cheese
1/4 teaspoon salt
1 teaspoon fresh parsley or dill, chopped
freshly ground black pepper, to taste
Directions:
Cut the cumbers lengthwise, and remove the seeds, then cut a small strip off the bottom of one side so that the cucumber half will set level, without falling over.
Use the other half of the cucumber and dice into 1/4 inch pieces.  Combine the diced cucumbers with feta cheese, dill, salt and pepper. Divide the mixture between the 2 cucumber "boats", then slice into 1 1/2 inch pieces.