Adult Medicine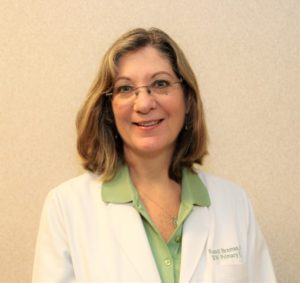 Dr. Randi Braman is originally from Coatesville, Pennsylvania.  She graduated from Franklin and Marshall College in Lancaster, PA in 1987 with a major in biology and a minor in art history.  In 1991 she graduated from Philadelphia College of Osteopathic Medicine and went on to complete the  Family Medicine Residency Program of Georgetown University/Providence Hospital in Washington DC in 1994, serving as chief resident in her final year.
In November 1994 Dr. Braman joined LibertyMed in Eldersburg.  BW Primary Care evolved from that practice, and she is proud to work alongside Dr. Betty Wang as her business partner, as well as our other talented practitioners, as well as our dedicated staff.
Dr. Braman is board certified in Family Medicine. She sees patients ages 12 and up.  She has served as a clinical instructor for students in the Department of Family and Community Medicine, University of Maryland School of Medicine. She precepts students from other schools as well, and feels it is a privilege to help guide and inform the education of our future physicians.  She has also served the Maryland State Assembly as Doctor of the Day on numerous occasions while the legislature was in session, since the mid 1990s.
Honors for Dr. Braman include being named one of Baltimore Magazine's Top Doctors in 2000, and Maryland Osteopathic Physician of the Year in 1997.
Dr. Braman believes it is her job to entertain you while nature does all the hard work.  When that fails, she rolls up her sleeves and works with you to improve and maintain your optimal health.