NUTRITION
Several options exist for nutrition guidance.
The Body and Wellness Program provides medically supervised, insurance-covered, and structured guidance on nutrition, mindset and lifestyle, with regular visits providing the accountability we all need.  Read more by going to the Body and Wellness Page on this website.
Carroll Hospital Nutritional Counseling – but usually they have facility fees and criteria to meet

Call – 410-871-7390

Giant has some great online classes https://giantfood.com/pages/health-and-wellness
Nourish

They do in-office (but closest I think is Towson) and they do Zoom.

CareFirst Insurance Programs:
SHARED MEDICAL APPOINTMENTS (SMAs) VIA ZOOM AT BWPC
These are group online classes, using insurance with great topics that should be of good variety and interest.  See what's next on this flyer: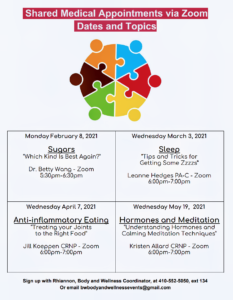 DIABETES EDUCATION
This is a *NEW* Offering of Diabetic Education via Zoom with Kristen Allard, CRNP.  For anyone from pre-diabetics to complicated diabetic patients, these insurance-covered meetings provide support and education on the topic of managing sugars/carbohydrates in food as well as specific guidance with medications used to treat diabetes.   Each session, there will be a different relevant topic so that you can do ALL of them or jump in to just one.
Monday May 24, 2021 6pm-7pm via Zoom- Kristen Allard CRNP
Topic: All about Diabetes and Pre-diabetes – Fundamentals of Nutrition and Practical Points
Monday August 9, 2021 6pm-7pm Via Zoom- Kristen Allard CRNP
Topic: Managing Diabetes day-day, Foods, Activity, 
Stress and Delaying Complications 
Please contact Rhiannon at 410-552-5050 ext 134 or Email at Reverett@lifebridgehealth to reserve your spot!