Adult Medicine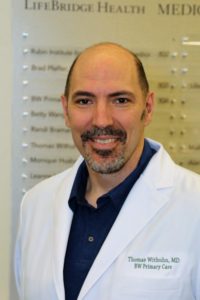 Dr. Tom Withuhn specializes in Internal Medicine at Northwest Hospital Medical Care Center in Eldersburg, MD. Dr. Withuhn is dedicated to providing disease management and treatment for symptoms of acute and chronic illnesses as well as preventive care and annual physicals. He cares for patients 16 years and older and is currently accepting new patients. His medical interests include natural diabetic management, nutrition and wellness, targeted cancer screening, longevity, adult ADD management, and medically guided weight loss. Patients find comfort in knowing that Dr. Withuhn is thorough and detailed in providing treatment and value his attentiveness no matter the condition type.
Board Certified in Internal Medicine, Dr. Withuhn received his medical degree from the University of Southern California in Los Angeles. He completed his Residency at George Washington University Hospital in Washington, D.C. He has extensive hospital experience in complex medical cases and has spent the last six years in eastern West Virginia treating the medically underserved. In addition to attending medical school, Dr. Withuhn earned a Masters Degree in Life Sciences from the University of Maryland.
Dr. Withuhn is proud to serve the community in which he resides. In his spare time, he enjoys history, reading, and relaxing with his family and friends. Dr. Withuhn applies his critical thinking skills outside of the exam room as an avid strategic board game enthusiast.
*Dr. Withuhn's patient panel is currently full and he cannot accept new patients.