PLEASE READ BELOW VERY CAREFULLY (updated Jan 14th, 2021):
**********************************************************
*On Monday, Jan 18th, Maryland moves into Phase 1B – which includes people >75 years old, with special needs/disabilities, educators and other child care workers.    Please refer to www.caronavirus.maryland.gov to learn about signing up at a vaccination site based on your county.  Per Governor Hogan, Phase 1C (for those age >65) may be opened up as early as Monday, Jan 25th.
*BWPC is NOT currently keeping a COVID vaccine patient priority list and we do not yet have access to vaccines at this time.  When we know more, we will inform our community as soon as possible via this website, our phone lines, and our social media pages (FB/IG).  Click here for a good summary article by AARP with updated vaccine information and FAQs.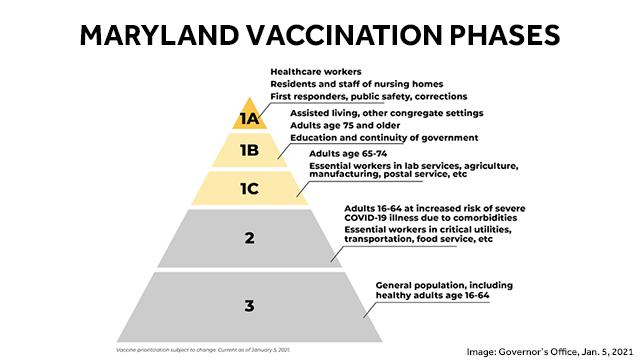 *The state of Maryland is attempting to have vaccination records and registration details organized under Maryland MyIR.   Therefore, if you are not yet registered, you may benefit from doing so.  Reminders of vaccine details may come via text, e-mail or phone.  
*For questions about vaccine safety in women interested in pregnancy or who are currently pregnant/nursing, please read this document carefully:  COVID Vaccine Shared Decision Making Information for Pregnant People Updated 12.28.2020.  Basically, the decision is a personal one with multiple factors to consider the risks vs. benefits.  
*We encourage you to stay in the loop with our practice updates by signing up on our webpage with your email (see bottom of home page). Once signed up, you will receive in your email anything new about this topic as well as other important information for your health.
*As of Dec 2020, due to the sharp spike in COVID-19 cases, our office is doing primarily telehealth only appointments.  This is an effective way to do routine visits, including physicals and medication follow-ups, as well as urgent/sick concerns.  We anticipate that most visits may be telehealth through until Feb 2021 but will keep you posted on changes.  If you feel you need to be seen in person, please relay this to our schedulers and we will do our best to accommodate your health needs.  
**********************************************************
COVID-19 TESTING INFO
COVID Drive-Thru Testing at BWPC Eldersburg requires a telehealth appointment before it can be scheduled. For our patients we feel strongly that learning of context for your concerns will allow for us to give you the best and safest advice.  Based on your visit, you might be referred to our drive thru testing at designated times BY APPOINTMENT ONLY.  IMPORTANT – DO NOT walk into the office if you are sick.
If you want COVID-19 testing and do NOT require medical advice or guidance (and without an appointment) – you may self-refer for testing at any of the Maryland testng sites which can be found on this page via a zip code search:  https://coronavirus.maryland.gov/pages/symptoms-testing.    The results of these tests are managed by the Department of Health in MD and you will receive a call from them when results are back.  Turn around is usually 3 days to <1 week.
The following links provide information on county-based COVID testing locations:
Other testing resources/sites which might be helpful (again, WITHOUT MEDICAL GUIDANCE directly from us) include:
****************
If you are scheduled for a COVID-19 nasal swab at our office (only after being scheduled for an appointment and ordered by a provider), please review this protocol for the time of your sample collection.  IMPORTANT – DO NOT walk into the office on your test day.  Please review this document before your arrival via car: Eldersburg Covid Testing Instructions.   You will be called with your results 2-4 days from the testing date.
****************
Questions about Antibody Testing in general?  Learn more here (this has not changed as of Nov 2020): Covid19 Testing – What We Know and Don't Know   Please note that lab orders for antibody testing should be requested by your provider to best discuss context and interpretation.  We do NOT recommend rapid finger tests that some urgent care facilities offer.
Other:
 Please reference the blog post dated July 26th for a more detailed review of testing requests and options.  CLICK HERE TO SEE IT.