(updated June 22, 2021)
**********************************************************
MASKING POLICY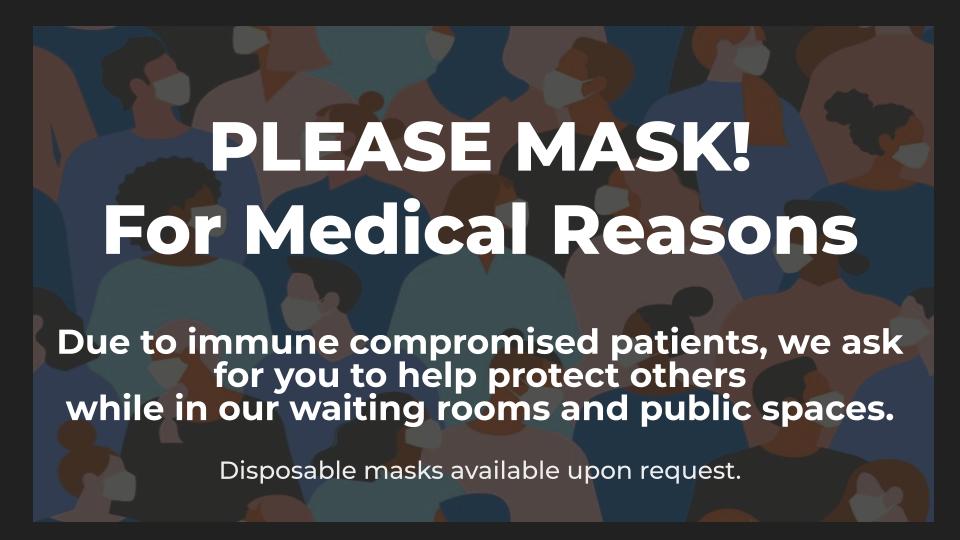 The CDC has new guidelines on masking once fully vaccinated which is exciting news for daily freedom from masks.  BW Primary Care's buildings and waiting rooms will continue to require face masks due to the nature of protecting those who might have weakened immune systems.  A mask will also help to mitigate your own risk should an ill individual expose you while visiting our spaces.  We will provide a mask should you show up without one.  Thank you for your cooperation with this very important topic.
COVID-19 VACCINES AVAILABLE
If you are interested in the COVID-19 vaccines and are 18 years or older… 
BWPC carries Moderna vaccines and can administer vaccines at both offices in Eldersburg and Owings Mills by appointment only.
Please call 410-552-5050 Ext 120 to be scheduled.
-You will be prompted to leave a message with your name, date of birth, and best contact number
-Please call this number if you have specific vaccination questions and to request a time to receive the vaccine. 
-Scheduling will vary weekly, based on supplies/demand.
Please note:  you MUST be a current patient of BWPC (seen in the last 3 years).  Also, at this moment we do not have possession of the Pfizer-BioNTech vaccine for ages 12 thru 17 (see below).
***********************************************************
TELEHEALTH APPOINTMENTS
*BWPC office welcomes in-person medical appointments as long as screening questions have been answered appropriately.  Telehealth will be offered to those considered higher risk or with active symptoms.  We are currently seeing a large majority of our patients in person. 
***********************************************************
VACCINE RESOURCES
*For questions about vaccine safety in women interested in pregnancy or who are currently pregnant/nursing, please read this document carefully:  COVID Vaccine Shared Decision Making Information for Pregnant People Updated 12.28.2020.  Basically, the decision is a personal one with multiple factors to consider the risks vs. benefits.  
*All Marylanders 12 and over will be eligible for vaccination through all providers. Pfizer-BioNTech vaccine is the only FDA authorized use vaccine for ages 12 to 17. 
The links to the county specific sites are still active:  
*Retail locations have regular appointment postings:
FAQs
*FAQ – Should I get the vaccine? 
Yes, as a practice we believe the benefits outweigh the risks and has a 95% efficacy at preventing the disease. It will not give you COVID but you might have mild side effects (like flushing, body aches, low grade fever/chills, and arm soreness)  for a few days. Even if you have had COVID infection, the immunity you get from the vaccine is better than the natural immunity from the disease (which is thought to last around 90 days) so get the shot when you get the chance. Yes, you will still need to wear a mask after vaccination.
*FAQ – Who should NOT get the vaccine?
Pregnant/breastfeeding women should follow the decision tool above to make a personal decision
Those with severe allergies or adverse reactions to other vaccines
Those undergoing chemo/treatments that severely interfere with the immune system
Those under age 16 – until more studies are done
Those with history of guillian-barre syndrome
*FAQ – Should I get the second vaccine even though some are saying the first shot may be enough?
At this time we do not believe that the one shot will be enough immunity to forego the second shot.  In addition, incomplete immunity may contribute to additional viral mutations.  Therefore, it is still advised to proceed with the complete FDA approved dosing regimen.  
*FAQ – Should I get the second vaccine after the first dose caused some side effects?
Please do consider that the second dose may cause more side effects as it is a booster dose to "remind" your immune system what to do if exposed to the virus.  There is no data to support how much less immunity you have without the second dose, or with a delay of the second dose.  Therefore, we recommend that you judiciously consider this if you choose to stray from the recommended schedule.  If you experienced a severe reaction to the vaccine, you may be referred to an allergist for guidance and you should not receive the second shot.  This article highlights the latest recommendation.  If you would like to discuss this with your primary care provider, please call the office for an appointment. 
*We encourage you to stay in the loop with our practice updates by signing up on our webpage with your email (see bottom of home page). Once signed up, you will receive in your email anything new about this topic as well as other important information for your health.
**********************************************************
COVID-19 TESTING INFO
Traveling Soon? This article is a good summary on the testing required before travel and how to look for a place to do it.  https://thepointsguy.com/guide/where-to-get-covid-test-travel/  Unfortunately BWPC's PCR testing is not guaranteed within 2-3 days, though we try our best.  Also we only test 2 days per week currently which further makes the timing tricky.  Some of the urgent care places listed below or travel clinics may be able to assist.  Please check with your airline/hotel about requirements as well.
COVID Drive-Thru Testing at BWPC Eldersburg requires a telehealth appointment before it can be scheduled. For our patients we feel strongly that learning of context for your concerns will allow for us to give you the best and safest advice.  Based on your visit, you might be referred to our drive thru testing at designated times BY APPOINTMENT ONLY.  IMPORTANT – DO NOT walk into the office if you are sick.
If you want COVID-19 testing and do NOT require medical advice or guidance (and without an appointment) – you may self-refer for testing at any of the Maryland testng sites which can be found on this page via a zip code search:  https://coronavirus.maryland.gov/pages/symptoms-testing.    The results of these tests are managed by the Department of Health in MD and you will receive a call from them when results are back.  Turn around is usually 3 days to <1 week.
The following links provide information on county-based COVID testing locations:
Other testing resources/sites which might be helpful (again, WITHOUT MEDICAL GUIDANCE directly from us) include:
****************
If you are scheduled for a COVID-19 nasal swab at our office (only after being scheduled for an appointment and ordered by a provider), please review this protocol for the time of your sample collection.  IMPORTANT – DO NOT walk into the office on your test day.  Please review this document before your arrival via car: Eldersburg Covid Testing Instructions.   You will be called with your results 2-4 days from the testing date.
****************
Questions about Antibody Testing in general?  Learn more here (this has not changed as of Nov 2020): Covid19 Testing – What We Know and Don't Know   Please note that lab orders for antibody testing should be requested by your provider to best discuss context and interpretation.  We do NOT recommend rapid finger tests that some urgent care facilities offer.