The following is what was updated on our COVID-19 Page today:
*BWPC is NOT currently keeping an official COVID vaccine patient priority list and we do not yet have access to vaccines at this time – as of Feb 9th, although we've been registered, we do not yet have any supplies.  When we know more, we will inform our community as soon as possible via this website, our phone lines, and our social media pages (FB/IG).  Click here for a good summary article by AARP with updated vaccine information and FAQs.
*Based on your county, please make sure you and your loved ones are registered on the following sites.  You do not need to reside in the county you sign up for but should be willing to drive to the same site for BOTH shots.   You may sign up on multiple site registrations and receive your vaccine from whomever calls you first.  Once received, your vaccine details will automatically upload into your chart via Immunet.   
*Retail locations plan to provide the vaccine soon as well.  Here is the page with Retail Vaccine Sites.  
*LifeBridge Health also has a sign up form – completing this form will allow eligible individuals to receive the COVID-19 vaccine from a LifeBridge Health site as soon as we have appointments and vaccinations available.  Please only register once or it may delay your appointment.  https://app.smartsheet.com/b/form/0631d72557054129988ec661b8cb4548
*Technically, Maryland is in Phase 1C of vaccine distribution but has not yet completed vaccination of prior phases due to a very limited supply.  Please refer to www.coronavirus.maryland.gov to learn more.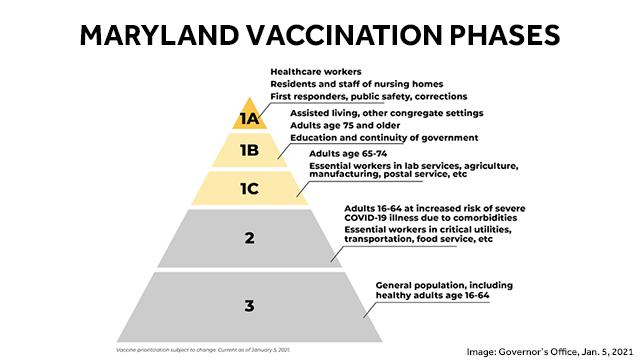 *For questions about vaccine safety in women interested in pregnancy or who are currently pregnant/nursing, please read this document carefully:  COVID Vaccine Shared Decision Making Information for Pregnant People Updated 12.28.2020.  Basically, the decision is a personal one with multiple factors to consider the risks vs. benefits.  
*FAQ – Should you get the vaccine? 
Yes, as a practice we believe the benefits outweigh the risks and has a 95% efficacy at preventing the disease. It will not give you COVID but you might have mild side effects (like flushing, body aches, low grade fever/chills, and arm soreness)  for a few days. Even if you have had COVID infection, the immunity you get from the vaccine is better than the natural immunity from the disease (which is thought to last around 90 days) so get the shot when you get the chance. Yes, you will still need to wear a mask after vaccination.
*FAQ – Who should NOT get the vaccine?
Pregnant/breastfeeding women should follow the decision tool above to make a personal decision
Those with severe allergies or adverse reactions to other vaccines
Those undergoing chemo/treatments that severely interfere with the immune system
Those under age 16 – until more studies are done
Those with history of guillian-barre syndrome
*FAQ – Should I get the second vaccine even though some are saying the first shot may be enough?
At this time we do not believe that the one shot will be enough immunity to forego the second shot.  In addition, incomplete immunity may contribute to additional viral mutations.  Therefore, it is still advised to proceed with the complete FDA approved dosing regimen.  
*FAQ – Should I get the second vaccine after the first dose caused some side effects?
Please do consider that the second dose may cause more side effects as it is a booster dose to "remind" your immune system what to do if exposed to the virus.  There is no data to support how much less immunity you have without the second dose, or with a delay of the second dose.  Therefore, we recommend that you judiciously consider this if you choose to stray from the recommended schedule.  If you would like to discuss this with your primary care provider, please call the office for an appointment.