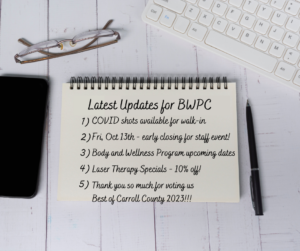 BW Primary Care has so much to cover in this one post.  Please take a few minutes to read this to get caught up with our latest happenings.
COVID vaccines will be available on a walk in basis starting Monday, October 16th. We needed to restock so we apologize for the inconvenience for those turned away this week due to lack of supply. 
As of Oct 16th, you can walk in during regular business hours for either the seasonal Influenza or the COVID vaccine (Pfizer).  This service is for anyone who is an established patient of the practice.  You may also receive your vaccine at your regularly scheduled visit as always. Our high dose is Fluzone by Sanofi recommended for all those =/over age 65, and our regular dose is Fluarix by GSK for all younger than age 65. We currently do not stock RSV vaccines which have not yet made it into the official CDC annual vaccine schedule for adults. The current recommendation is that "adults aged =/> 60 years may receive a dose of RSV vaccine, using shared decision making."  Those with underlying lung disease or immune compromised states may "consider it."  Thus, with lukewarm language, Medicare D covers the RSV vaccine but many private insurance plans do not (since it is not yet an official recommendation) so those who request it may need to pay over $300 for the shot. This status may be updated in the 2024 guidelines. Those who are interested in the new RSV vaccine should get their dose from the pharmacy since we do not stock it at this time.
Please make a note of an early closing for an office event on Friday, October 13th at 1pm. We request that you anticipate this scheduled closing and contact the office earlier for prescription renewals or any other time sensitive concerns.  We will not be available at either location that afternoon. Sat Urgent Clinic at Foundry Row will occur per usual the next day.
Great program offerings are happening within our BW Body and Wellness Program, our formal nutrition/lifestyle/mindset accountability program!  Our Integrative Nutritionist, Amie Howard, has been extremely well received since she started in August 2023.  In order to work with Amie, patients must first be referred to our Program by their clinician and then must attend an Orientation via Zoom with Dr. Wang.  Our last Orientation date is in October and then we will take a break in Nov/Dec.  In the meantime, you are not required to be a Body and Wellness patient to attend the many other offerings:
Oct 25th 6-7pm – SMA on Zoom – Protein Breakfasts with Leanne Hedges and Amie Howard
Oct 23rd 6-7pm – Orientation via Zoom for The Body and Wellness Program
Nov 14th 5-6:30pm – In-person Teaching Kitchen at CrossRoads on Superstar Vegetable Sides – limited seats
To sign up for these, please refer to our BW Body and Wellness webpage which has flyers and sign up details.
Do you have joint pain?  Are you interested in learning more about how Laser Treatment can lessen your need for medication and accelerate your healing?  For the month of October, all Laser treatment packages are 10% off.  Consider gifting it for the Holidays!  Read more on our webpage or contact us with any questions you may have.
Last but not least, we would like to whole-heartedly thank our community for voting for us as the Best Primary Care Practice in Carroll County 2023.  We take this honor seriously knowing that we have the responsibility to continue our daily efforts to provide the best health care to our patients and their families.  We are very excited to officially re-open our practice to new patients as of November of 2023 with the addition of Nancy McAlduff, CRNP in Carroll County and Desi Rotenberg, PA-C in Owings Mills.  Your referrals to our practice is the best form of appreciation.
In Wellness,
Your BW Primary Care Team.