This fall, we recommend that everyone get a bivalent COVID-19 booster.  We expect that those age 12 and under will have an opportunity later in the year.  Right now, BWPC has the Pfizer bivalent vaccine available at both locations.  Please read the below write up to help you make the right decision for you and your family.
In Wellness, 
-Your BWPC Team
FAQs on the bivalent COVID vaccines:  
How do I get the bivalent COVID vaccine if I am a patient at BWPC?
We are taking walk-ins (no appointment necessary) during regular business hours for the Pfizer bivalent vaccine.  You MUST be an active patient of BWPC, seen in the last 3 years. Please do not walk in for shots during Saturday urgent clinic hours.  
What is the bivalent COVID vaccine:  The updated bivalent COVID vaccine uses the same mRNA science but has been expanded to both the original strain and a BA.5 strain (omicron) formula to attempt to match the latest mutated variants of the COVID virus.  The goals of the new bivalent vaccine(s) are higher protection, longer protection and broader protection.  
When should I vaccinate? 
Anyone who has not been boosted or infected >2 months prior is a good candidate.   Read below for details.
What if I had an infection this year, when should I vaccinate?  
The formal guideline from the official CDC guidance is that you can get your vaccine immediately following recovery from symptoms or, at maximum, defer up to 3 months after infection.  However, there are  studies to show that a booster within two months of infection does NOT broaden B cell (long term memory cell) immunity so wait at least 60 days. Beyond that we don't know optimal timing. Understandably, the UK recommends 12 weeks (3 months) before boosting.
This is the recommendation on timing from a trusted epidemiologist, Dr. Katelyn Jetelina: 
<2-3 months since infection/vaccination:

Wait.

3-4 months since infection/vaccination:

Consider a booster if you're high risk, or have an event. (Get your booster 2 weeks before this event for optimal protection).

4-6 months since infection/vaccination:

Get your booster at some point.

6+ months since infection/vaccination:

Get your booster ASAP. 
What is the difference between the Moderna and Pfizer versions?
Pfizer-BioNTech:

 

30 microgram vaccine – same dose as original vaccine

Approved for ages 12 years and older
Moderna

: 

50 microgram vaccine – half dose of original, same dose as booster series

Approved for ages 18 years and older
You can mix and match Moderna and Pfizer in the series – bottom line: get the one that is most easily accessible. 
Can I get the flu shot at the same time as the bivalent COVID vaccine?
YES, you can get the flu shot and the bivalent booster at the same visit. It is recommended to administer the flu shot and the COVID vaccine in different arms.
Shots you should NOT get together with the COVID vaccine:  
ShingRix (shingles) – due to more significant added side effects

Jynneos (monkeypox) – due to increased myocarditis risk
What side effects should I expect with the bivalent vaccine?  
Side effects are variable and self-limited.  Meaning, as with previous boosters, you may have about 12-24 hours of feeling injection site redness/swelling, mild fatigue, headache, muscle ache, chills/fever, and lymph node swelling.  You can medicate as needed with OTC relievers and rest. Expect that if you have had previous side effects, you will likely have similar symptoms.  
What is the long term plan on boosters? 
There is a new goal declared across public health agencies to move to ONE SHOT PER YEAR despite the rapidly mututating SARS-CoV-2 viral patterns. It's a good goal but, as we have been functioning since the pandemic started, we will see what reality brings. 
I'm tired of vaccines, should I really vaccinate again?
The data is clear that there is a clear immune response to vaccines. The death rate (not even considering the symptom impact of those who get lingering effects) is highest among those not vaccinated.  Consider as well that age is the strongest predictor of death/hospitalizations.  Therefore, thinking about other household or close contacts is important in your personal decision-making. While the news has softened up on this, we are still losing precious American lives to this virus.  In August of 2022, we lost 15,284 Americans to COVID-19, and this is largely preventable. The end is in sight, but we are not there yet.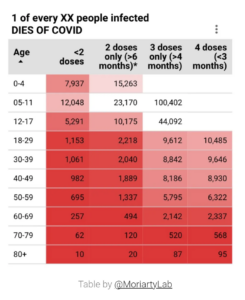 Table by @MoriartyLab
What about my kids age 12 and under?
Many children (12 and under) can still get the original monovalent COVID-19 vaccine booster (third dose) now.  For those age 5-11, the bivalent vaccine should be coming by the end of the year.  They should not wait to get boosted so that they are fully protected in school.  They can get the updated booster once it is available.