BW Primary Care is your ultimate health partner.  We understand that reaching your goals requires significant practical advice for building new habits, understanding nutrition, getting in effective exercise, and lessening stress responses like anxiety, high blood pressure, insomnia, etc.  With an open mind, readiness for change, and us as your cheerleaders, you can feel and look better!  Here are some upcoming educational opportunities led by our Body and Wellness Program clinicians.  Only patients of BW Primary Care may participate, but you do not need to be and active Body and Wellness Program participant.
If you are interested in a structured program with accountability and the best results, consider the Body and Wellness Program.  Learn more on our Body and Wellness Page or call Rhiannon at ext 134 for orientation dates, which occur monthly and are prerequisites to joining.
On Wed, March 3rd at 6pm, Virtual Zoom Shared Medical Appointment on the important topic of SLEEP!  Learn how important it is as well as best practices to fight insomnia.  One in four (25%) Americans experience acute insomnia each year, with about 25% of those individuals developing chronic persistent insomnia.  If you've ever struggled with sleep, this is an important program to attend.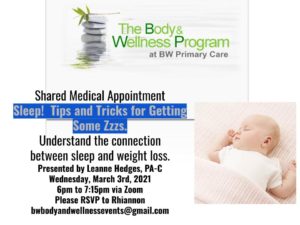 On Sat, March 13th at 1pm to 4pm – join Dr. Betty Wang and Coach Megan Corey for another Deep Dive Workshop!  Give yourself the time you deserve to dig in deep with virtual supportive peers and under our guidance.  You are sure to gain insight into how to break through your limiting beliefs to implement effective strategies.  This event is also considered a Shared Medical Appointment.  We look forward to spending quality time with you!