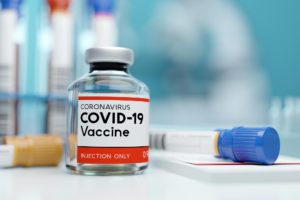 We updated our COVID-19 Page with the latest details that you might have questions about.
Learn about Phase 1B anticipated for the end of January which is just weeks away
Register for Maryland MyIR or Immunet to keep your family's vaccine records up to date
Use a helpful tool to decide what to do if you are concerned about pregnancy/nursing
Reference a good website on FAQs.  Click here to learn more on all the above.
Mark your calendars!  We have added new Body and Wellness Events to kick off 2021 right!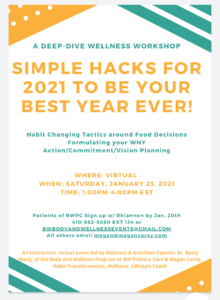 Megan Corey and Dr. Betty Wang are ready to host another DEEP DIVE MINDSET WORKSHOP on Sat, Jan 23rd, 1pm to 4pm  All patients of the practice are invited to participate in this virtual event.
If you would like to learn more about our Body and Wellness Program, please visit our web page or ask your primary care provider if it may be a good fit for you.  An orientation via Zoom is required before you can officially begin:
Mon, Jan 18th at 5:30pm
Wed, Feb 24th at 6:00pm
Wed, Mar 17th, at 6:00pm
IMPORTANT FINAL THOUGHTS – thanks for reading on!
BWPC Practice Policies are regularly updated.  Please reference this page to make sure you are aware of them.
The BWPC Team is thankful for our wonderful patient family.  Like many others, we have had numerous set backs in the last year especially impacting our staffing and schedules.  We appreciate the fact that a large majority of our patients have been extremely patient and compassionate with us while we work our hardest to meet everyone's health needs.  We take our responsibility seriously.  Please know that we are excited to soon offer additional services and conveniences to enhance your experience.  Stay tuned!