The winter months will prove to be more challenging as we see the expected rise in illness and COVID-19 cases, and Governor Hogan has announced new restrictions effective November 13, 2020 to soften the curve.  Please do not waver from doing your part which works and is simple.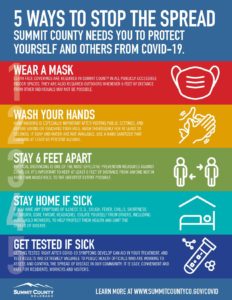 Our practice continues to welcome you in person or virtually to take care of all your healthcare needs.  If you visit in person, we have strict and enforced guidelines to ensure the safety of our patients as well as our staff.  Thank you for cooperating with our sanitation protocols which are essential to allow us to properly serve you.  If you believe that anything you see is not at the highest standards, please don't hesitate to report it to our manager, Chris, at ext 118.  Currently, our office spaces and waiting room are meant for those without any symptoms of cold/flu/fever/viral concerns.  Those with anything in this category are seen via tele-medicine or drive-thru testing.   Our process of triaging visits has been successful since the pandemic started so we will continue this approach.
For COVID-19 specific updates, including a summary of your testing options, please refer to our COVID-19 Services page which is updated regularly.
There are several important general Practice Policies for BWPC to be aware of:
All copays, self-pay fees, and past due balances are due at the time of service.
Those with significant collections due will be deemed inactive patients of BWPC until a payment plan is agreed upon or until the balance is cleared.  To discuss payment plan options and to avoid a canceled appointment, please reach out to our billers.
To lessen time in the shared waiting area, please review our Patient Forms page in case there may be forms needed before your visit.  Medicare patients who are scheduled for Annual Wellness Visits should try to complete the questionnaire at home.
When a patient is connected after-hours to the on-call provider, please expect that we reserve the right to charge for a remote visit (phone call only) or a telehealth (with video) visit, depending on the treating provider's discretion.  In addition, portal messages, if not directly related to a visit within 7 days, may also be charged as insurance has allowed.
We have had very positive feedback about our flu shot clinics at both locations!  Our FINAL Drive Thru Flu Clinic in Eldersburg for anyone interested is on Thurs, Nov 19th.  At this point, should you need a flu shot (or any other due vaccine), you may walk in to the office and request it.
2020 Holiday Office Hours this year:
Wed, November 25th – Closing Early at 5:30pm
Thu and Fri, November 26th and 27th – Thanksgiving Holiday – Closed
Nov, 28th – Sat Call Ahead Clinic  – Closed
Thu and Fri, December 24th and 25th – Christmas Holiday – Closed
Sat, December 26th – Sat Call Ahead Clinic – Closed
Thu, December 31st – Closing Early at 5:30pm
Fri, January 1st – New Year Day Holiday – Closed
Get plugged in via direct emails on our Website Homepage at the bottom of the page.  And, LIKE US on FaceBook to also stay in the loop on office happenings all year.  
Please stay healthy and safe!
-Your BWPC Family